Hello! It has been a bit of a while, so here is a bit about what's going on here!
This is a Musical Rations Episode!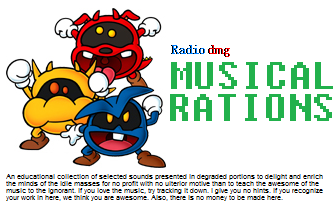 What is Musical Rations? Well, Radio DMG was originally envisioned as a radio station that only played 8-bit, chiptune, and video game music. Over time, the channel expanded to have animation music on it as well. But then the company that provided a free streaming radio station for us, went out of business. This happened in 2003, if I remember correctly. It was sad and tragic. I wanted to bring back Radio DMG in some capacity but I did not have the space for it. Now that I do have the space for it, I have been bogged down with all sorts of weirdness. So, here is what is going to happen! Every Wednesday, Radio DMG will update with a new show from our list of shows. This is the list of the new shows.
Radio DMG. This show has interviews and other features. These will generally be about an hour long or so.
Animation is Art: The Audio Experience. This show will be reviews (spoiler heavy) of animated films or TV shows and these will be about 30 minutes or so.
Musical Rations. This is an audio program of just music, that we like, unified with a set theme. These are meant to be good for jogging or doing other things for about an hour.
Glorious Excess. This is an archive show where Radio DMG Pocket episodes, shows Philip has been on, and rare B-Sides of content are contained. These generally run for three hours plus.
100% Newsity. This is a Special Report show. This may also contain audio from the (Almost) Daily Newsity videos from Area DMG and generally runs for half an hour.
Click below to get to the episode!
In This Episode: Episode 9? Episode 8 is contained in episode 39 of Radio DMG, which will be up later. Sorry about the delay on that. However, we will have a special 100% Newsity episode explaining all of the reasons for the delays! Download it and love it!
Download This Episode(137MB): LOVE IT!
see you later!