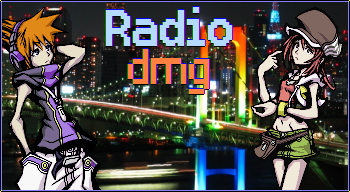 In This Episode: It's double the interview and double the fun as we lightly pick the brain of an up and coming voice actor/animator named Preston Cowley and lightly simmer a friendly Chocobo named Warky. A Chocobo that does impressions, Mormon Comedy, Video Game Soundtracks, and other crazy things. We don't have any Newsity in this episode; but there is some important schedule information revealed. The Time Stamps now reflect the new naming convention for the spoken opening and ending remarks. Do not be alarmed, it means you no harm! The interviews are fun, although I would state that we do talk about a lot of topics. Those topics include everything from Anime, Cosplay, Video Games, Books, Mormonism, and the Japanese Sendai Earthquake.
MP3(89MB):radiodmg008.mp3
TIME STAMPS
00:00 – 01:36 – Disclaimer/Opening Theme
01:37 – 02:58 – Foreplay/Episode Description
02:59 – 03:49 – Features Theme/Quick Note
03:50 – 39:04 – Preston Cowley Interview
39:05 – 39:27 – Features Theme
39:30 – 1:36:44 – Steven "Warky The Chocobo" Nunez Interview
1:36:45 – 1:37:14 – Pillow Talk
1:37:15 – END – Ending Theme
SHOW NOTES!