Welcome back to Life in Puzzle!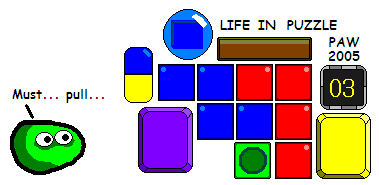 Season 1, Episode 1
Author Notes: Life in Puzzle was born out of a single idea, what if there was a comic strip about the pieces and elements that we see in puzzle games? Looking back at the first two seasons of this comic strip, I realize that it is incredibly rough. The art style that was adopted later is much nicer in my opinion and I felt that the jokes got a lot better. Season 1 is 13 episodes and Season 2 is only 2 episodes. Season 3 is 12 episodes with an extra 13th episode that was never aired on Snowflake Studios. I started work on writing scripts for Season 4 and I can say that it will be quite a bit better. I am not going to explain the humor of the comic strips because I feel that a joke explained is no longer funny. I will comment on them though.
This first comic strip introduces three main characters in the series: Markitt, Cisco, and Donny. Markitt is the Red "Gun" Tetramino, Cisco is the Blue "Sguiqqly" Tetramino, and Donny is the Purple Jewel from Jay Geertsen's Columns video game. This is an odd comic strip in that it has profanity in it. There was a time in Snowflake Studios, where we were about pushing the profanity and content envelope. I decided not to go that route with Life in Puzzle and instead decided to do continued stories and more focused jokes. A lot of later jokes come from reactions. Particularly with the character of Klyde. Klyde is a blob from the game Megalit. Let me go ahead and break down that top graphic for you as well.
From Left to Right, here are the characters: Errianne, Cisco, Rupert, Markitt, Baxter, Anthony, Amanda, Donny, Klyde, Robert, CeCe, John, Mighty Bear, and THE EVIL Those are their Season 3 and Season 4 pixel models.
LINKS