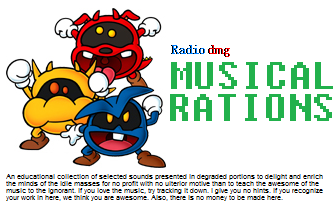 In This Episode: We're back again. Yes, we had an episode named "Calm" back in the early, dark ages of Musical Rations. This one of more suitable… and slightly uneasy. I think this episode is more geared toward stretching and general walking exercises than anything else. I do enjoy these and so should you! Yes, this was completed before we posted up the latest episode of Radio DMG. But I wanted to post them around the same time. Trying to get production schedules up and running more smoothly. Please understand.
MP3 (148MB): Sheer Quality!
M4A in a ZIP (59MB): Save Internets!
DMG Ice – http://www.dmgice.com
Area DMG – http://www.areadmg.com
Radio DMG – http://www.radiodmg.com
Animation is Art – http://www.animationisart.com
Facebook – http://www.facebook.com/officialdmgice
Twitter – http://twitter.com/dmgice
Ello – https://ello.co/dmgice
Pinterest – http://www.pinterest.com/dmgice/
Google Plus – https://www.google.com/+dmgice
StreetPass Aurora – http://www.spaurora.com
Flickr – https://www.flickr.com/photos/dmgice/
It suits us fine.