Welcome back, Musical Rations!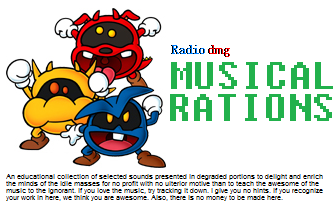 The second season of Musical Rations has started with episode 13 and I hope that you enjoy it! Of course, there are links to keep in mind for downloading this episode and they are available below. Like always, the file is 320KBPS and available in both MP3 and ZIPPED M4A formats. We may also add FLAC in the future for some reason. Maybe.

MP3(140MB): Pick it up!
M4A in a ZIP(55MB): Pick it up quicker!

Did I really go through the Mines for this?