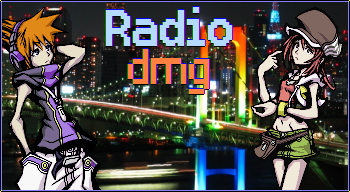 In this Episode: Philip rambles on about E3 2011, A-Kon 22, and crazy future plans for Radio DMG. This is a lull before the storm of A-Kon Interviews. It's also done with a cold, at 1 or 2 am in the morning, and probably half asleep. Testing a strange logo thingie and then there is a tumbleweed thinking it should be the Wii U controller. I dunno why that makes sense. But a lot of Radio DMG makes a sense that even the host can not explain. By the way, do you listen to ALL of Radio DMG? Because chances are that you might not be. Chances are that you may not know our terrifying secrets. Or you may know them and accept them into your life. Either way, a new episode is here.
MP3(82MB):radiodmg013.mp3
Show Notes
There isn't realllly anything to link to in this episode.
Time Stamps
00:00 to 00:50 = Disclaimer/Intro Music
00:51 to 01:27:25 = Rambler gets rambling…
01:27:26 to END = Ending Theme