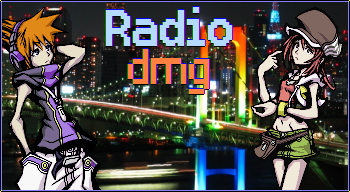 In this Episode: There is a TON of audio stuff I have that I can use for the features. I couldn't think of a better time to spring the NDK concert audio on everyone. Next show will be an "E3" thing leading up to E3 week. Because I have a ton of audio to give you. I also need to start on "Don't Panic" and then next month is E3 2011 and A-Kon 2011. Both of which we will be "covering" on the show and hopefully I can do some E3 stuff with Cross Border Gaming too. I also want to show off other features too! I also want to know if people are staying after the Ending Theme. We have "hidden" audio after every episode except for that odd "test" episode.
We are also looking for some new "theme" music. The previous music was a bit long so I decided to mix it up in the last few episodes. The Game Boy Start up sound is here to stay and the Disclaimer/Audio Clip will be the same almost all the time. But I would love to have an "Official" Radio DMG opening theme. It would have to be about 30 seconds and encapsulate all the insinuations of the show. Think of this show as an everything bagel with the right helping of cheese. Do you want to contribute to this everything bagel? Spoiler Alert: You DO.
MP3(114MB):radiodmg010.mp3
Correction: Dead or Alive Dimensions is out the week after next. Not next week.
TIME STAMPS!
00:00 to 00:22 – Disclaimer
00:23 to 01:00– Music
01:01 to 01:59 – Foreplay
02:00 to 04:53 – Music (See Notes)
04:54 to 09:26 – Mighty Milky Way Impressions
09:27 to 10:39 – Music + Radio Drop
10:40 to 11:13 – Newsity Theme
11:14 to 24:26 – Newsity
24:27 to 27:27– Music (See Notes)
27:28 to 42:21 – Reviewsity: Super Mario Land
42:22 to 45:40 – Music + Radio Drop
45:41 to 47:00 – Special Note
47:00 to 47:23 – Features Theme
47:24 to 2:00:27 – Feature: NDK 2010 Concert 1
2:00:28 to 2:01:02 – Afterglow (I swear I'll do shout outs one of these days!)
2:01:03 to END – Ending Theme
Show Notes